How it Works
Bungee?? Virtual Lost and Found??? lets you anonymously mark your property and link it to your cell phone (and email). If the property is found, Bungee facilitates a real-time text conversation between you and the finder so you can arrange to get your stuff back.
In the case of a lost cell phone, Bungee also works through email.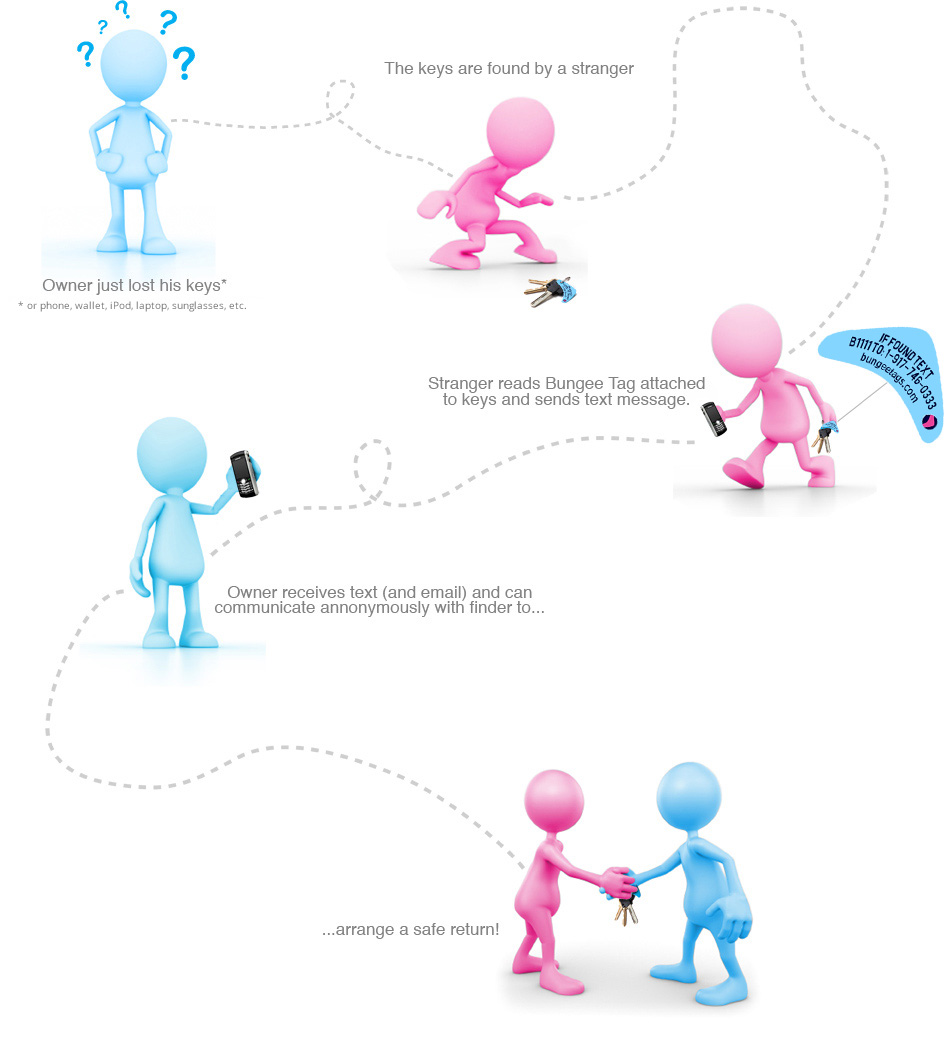 FAQ
Where does Bungee work?
Bungee works internationally anywhere in the world where text messaging and internet/email work.
What cell phone carriers does Bungee work with?
Bungee works with all of the major cell phone carriers in the United States. As long as you have text message capability on your phone (and who doesn't?) you are good to go.
I am having problems activating Bungee. Who should I contact?
You may send an email to info@bungeetags.com and leave us contact information. We will contact you immediately.
Do I have to activate Bungee?
Yes. You must go through the activation process either via text message or on our website. If Bungee is not activated, it will not work.
Will you return my property?
No. Bungee is a system that allows two parties to communicate anonymously and safely in order to arrange a return.
What if I lose my cell phone?
Bungee works through text message and email so if you have lost your cell phone, you will be notified via email.
What if I change my phone number or email address?
If you change any of your information, you can update it here in our account section
I lost something. What should I do?
Do what you would normally do if you lost something. Bungee works when the finder takes action and sometimes lost property ends up in lost and found departments or with the police. Make sure that you check with the appropriate parties. In other words, don???t just sit there and do nothing.
I found something. What should I do?
Follow the instructions on the tag and send a text message or you may report the find here.
How does Bungee protect my privacy?
Bungee allows you to label your property without putting personal information on it. When the property is found, Bungee bridges an anonymous conversation (through our system) between you and the finder. Your telephone number and email are never revealed by us.
Can I link more than one account to my cell phone and email?
Yes, you may link an unlimited amount of serial numbers/accounts to your cell phone number and email.
Do I have to register separately for each piece of property?
Generally no. If the tags that you are putting on each piece of property have the same serial number on them (and they do if they came together), you only have to activate the serial number once. But for each unique serial number you have to go through the activation process.